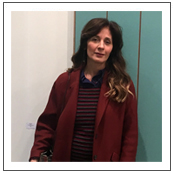 Betti Sperandeo
Laureata in Architettura al Politecnico di Milano nel 1988, si occupa di ristrutturazioni di interni, allestimenti e grafica. Dal 1994 collabora come grafica editoriale per il gruppo Gems (Longanesi, Garzanti, Tea, Corbaccio, Nord, Io Scrittore) realizzando cataloghi e copertine di libri. Set designer e costumista per il film "The Wingman", New York, 2011.
Il suo approccio progettuale parte dalla geometria che viene accentuata dal colore per sottolineare lo spazio. Ispirandosi a le corbusier studia sempre le interazioni fra colore e architettura.
Il colore crea emozioni e sentimennti all'interno di un'abitazione e il suo sapiente uso rende lo spazio fortemente espressivo, armonico e in sintonia con l'esigenze e la personalita di chi lo vive.
---
Betty Graduated in Architecture at Politecnico di Milano in 1988. She works on apartments and stores` restorations, exhibits and graphic design. Since 1994, collaborates as a publishing graphic designer with GeMS (Longanesi, Garzanti, Tea, Corbaccio, Nord, IoScrittore), where she designs book covers and brochures. She has served as Art Director (set design and costumes) on the film, "The Wing Man", New York, 2012.
Her architecture approach stems from the geometry that color accentuates to highlight the space. Drawing her inspiration from Le Corbusier, she is always studying the interactions between color and architecture. Color creates emotions and feelings within a living space. When used wisely, it can make a space become extremely expressive, harmonious, and in syntony with the needs and personality of who lives it.